LEGEND FOR GENERATIONS
Völkl celebrates its 100th anniversary. With an upgrade of the legendary Racetiger: Expect nothing less than highly innovative technologies and new geometry for the Racetiger RC and SC. And look forward to a third color variant with the beautiful Racetiger SC White. So be prepared. It's time for another chapter in the success story of the Racetiger line.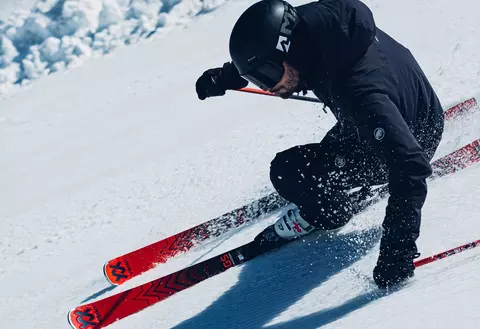 RACETIGER GS & SL
For the 2022/23 winter season, the Straubing-based ski manufacturer presents two new models of its legendary classic Racetiger: the GS, SL.
Featuring highly innovative technology such as Tailored Carbon Tips, the new R-Motion 3 GW binding plate and a narrower waist width for even faster edge changes, the Racetiger GS and SL stand out from their predecessors. These two new key technologies, along with changes to the geometry, have had a significant impact on the handling characteristics of the Race models—with the goal of achieving a tighter radius with less effort for sport skiers, as well as lighter and smoother turning characteristics at moderate speeds. In this way, the new Racetiger models bring top sport performance to an even larger target group.
THE RACETIGER TECHNOLOGIES